Jurassic World: Dominion Dominates Fandom Wikis - The Loop
Play Sound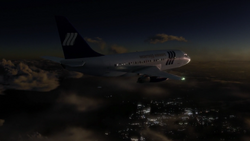 "The problem, ladies and gentlemen, is your plane departed Montego Bay, Jamaica, on April 7, 2013. Today is November 4, 2018. You've all been missing, presumed dead, for 5 1/2 years."
—Robert Vance[src]
Flight 828 was a service of Montego Air from Montego Bay, Jamaica to John F. Kennedy International Airport, New York, New York. The aircraft departed on April 7, 2013 carrying a total of 191 passengers and crew. The flight encountered turbulence while airborne and arrived over New York on November 4, 2018. The flight was diverted to Stewart International Airport in Newburgh, New York, where the plane was met by government officials who told them they had all been missing for five and a half years and had been presumed dead.
After a piece of flight 828 is found off the shore of Cuba, Ben Stone has a recurring vision of the plane exploding. Ben comes to the conclusion that the plane actually exploded and that the passengers died before they were resurrected for an as of yet unknown reason. The story is later leaked on the news after pictures are leaked from Guantanamo Bay. After the Eureka project determines that Kelly Taylor's body is showing signs of having died in a plane crash rather than being shot to death, Ben is convinced that they all died in a crash and were resurrected and that it has now been scientifically proven.
Not mentioned in the show, 828 is an angel number:
"The angel number 828 teaches you about the importance of trust and confidence in yourself and your abilities to succeed, and achieve all your goals. It also symbolizes your faith in the Divine guidance you receive from the Universe and your guardian angels in serving your life purpose and soul mission."
Known Passengers and Crew
Pilot: Bill Daly
Co-Pilot: Amuta
Passengers:
Seat 1A:
Seat 1B:
Seat 1C:
Seat 1D:
Seat 1E:
Seat 1F:
Seat 2A:
Seat 2B:
Seat 2C:
Seat 2D:
Seat 2E:
Seat 2F:
Seat 3A:
Seat 3B:
Seat 3C:
Seat 3D:
Seat 3E:
Seat 3F:
Seat 4A:
Seat 4B:
Seat 4C:
Seat 4D:
Seat 4E:
Seat 4F:
Seat 5A: Michaela Stone
Seat 5B: Cal Stone
Seat 5C: Ben Stone
Seat 5D:
Seat 5E:
Seat 5F:
Seat 6A:
Seat 6B:
Seat 6C:
Seat 6D:
Seat 6E:
Seat 6F:
Seat 7A:
Seat 7B:
Seat 7C:
Seat 7D:
Seat 7E:
Seat 7F:
Seat 8A:
Seat 8B: Empty
Seat 8C: Saanvi Bahl
Seat 8D:
Seat 8E:
Seat 8F:
Seat 16A:
Seat 16B:
Seat 16C:
Seat 16D:
Seat 16E:
Seat 16F: L. Radovich
Seat 19A: K. Silva
Seat 19B:
Seat 19C:
Seat 19D:
Seat 19E:
Seat 19F:
Seat 20A: O. Williams
Seat 20B:
Seat 20C:
Seat 20D:
Seat 20E:
Seat 20F:
Seat 21A: Lorraine Talebi
Seat 21B:
Seat 21C: Adrian Shannon
Seat 21D:
Seat 21E: Rachel Evans
Seat 21F: L. Spears
Seat 22A: S. Peagon
Seat 22B: Empty
Seat 22C:
Seat 22D:
Seat 22E: Empty
Seat 22F: B. Menakaya
Seat 23A: N. Harris
Seat 23B: Fiona Clarke
Seat 23C:
Seat 23D:
Seat 23E:
Seat 23F: E. Ross
Seat 24A: Henry Kim†
Seat 24B:
Seat 24C:
Seat 24D: Angelina Meyer
Seat 24E: L. Hunt
Seat 24F: M. Renner
Seat 25A: Astrid Koren
Seat 25B: T. Rodriguez
Seat 25C: Empty
Seat 25D: M. Eckert
Seat 25E: Empty
Seat 25F: J. Eckert
Seat 26A: Logan Strickland
Seat 26B: D. Rodriguez
Seat 26C: V. Ganon
Seat 26D: E. Mitchell
Seat 26E: Donovan Mitchell
Seat 26F: N. Weaver
Seat 27A: H. Gorst
Seat 27B: O. Gorst
Seat 27C: R. Halvorsen
Seat 27D: H. Henderson
Seat 27E: Matteo Jennings
Seat 27F: T. Fung
Seat 28A:
Seat 28B: S. Nguyen
Seat 28C: A. Wentz
Seat 28D: F. Gouriou
Seat 28E: S. Fung
Seat 28F: E. Shephard
Seat 29A: Empty
Seat 29B: J. Pedalino
Seat 29C: J. Butler
Seat 29D: A. Nunes
Seat 29E: C. Fung
Seat 29F: K. Boone
Seat 30A:
Seat 30B: S. Garcia
Seat 30C: Empty
Seat 30D: Empty
Seat 30E: Empty
Seat 30F: S. Larsen
Seat 31A:
Seat 31B:
Seat 31C: Douglas Sweeny
Seat 31D: B. DiMari
Seat 31E: W. Villa
Seat 31F: V. Wheeler
Seat 32A:
Seat 32B: Empty
Seat 32C: R. Armando
Seat 32D: Empty
Seat 32E: C. Chung
Seat 32F: Empty
Seat 33A:
Seat 33B: TJ Morrison
Seat 33C: Empty
Seat 33D: Eagan Tehrani
Seat 33E: Empty
Seat 33F: L. Roncancio
Seat 34A:
Seat 34B: D. Stroker
Seat 34C: R. Franck
Seat 34D: S. Wile
Seat 34E: F. Batko
Seat 34F: Eddie Williams
Unknown Seat:
Anna Ross
E. Baptiste
Finn Nowak†
I. Assadi
L. Nguyen

Lena Rasmussen

P. Geschiere
Randall Barr
Rebecca Viega
Troy
Appearances
Trivia
As of Season 3 episode 11, the world has gone absolutely crazy due to the discovery of the tailfin. Bigotry towards the 828ers has gone worldwide with unfair laws being passed against them; when it's the rest of the public's fault.
The Last Trial proved that the passengers need to do enough good deeds to keep their new lives upon 6/2/24's arrival collectively. Fortunately, the number of passengers has thankfully been dwindling thanks to all the murders and suicides of 828 passengers. This is likely a sign that only the 20 who were summoned to the plane need to do the task; with the other 171 passnegerd having been collateral damage when the source of the Callings blew up the plane with the Dark Lightning