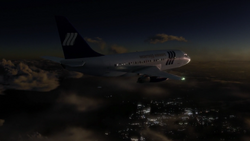 Flight 828 was a service of Montego Air from Montego Bay, Jamaica to John F. Kennedy International Airport, New York, New York. The aircraft departed on April 7, 2013 carrying a total of 192 passengers and crew. The flight encountered turbulence while airborne and arrived over New York on November 4, 2018. The flight was diverted to Stewart International Airport in Newburgh, New York, where the plane was met by officials who told them they had all been missing for five and a half years and presumed dead.
After a piece of 828 is found off the shore of Cuba and Ben Stone has a recurring vision of the plane exploding, Ben comes to the conclusion that the plane actually exploded and that the passengers died before they were resurrected for an as of yet unknown reason. The story is later leaked on the news after pictures are leaked from Guantanamo Bay. After the Eureka project determines that Kelly Taylor's body is showing signs of having died in a plane crash rather than being shot to death, Ben is convinced that they all died in a crash and were resurrected and that it has now been scientifically proven.
Not mentioned in the show, 828 is an angel number:
"The angel number 828 teaches you about the importance of trust and confidence in yourself and your abilities to succeed, and achieve all your goals. It also symbolizes your faith in the Divine guidance you receive from the Universe and your guardian angels in serving your life purpose and soul mission."
Eagan Tehrani
Eleven unidentified passengers to show up when the plane blew up
Five unidentified passengers taken by the Major
One-hundred fifty-six unidentified passengers not taken by the Major or witnesses of the plane explosion.
At least one unidentified flight attendant
Community content is available under
CC-BY-SA
unless otherwise noted.